Can Water Mitigation Professionals in Nutley Salvage Wet Carpets?
8/17/2021 (Permalink)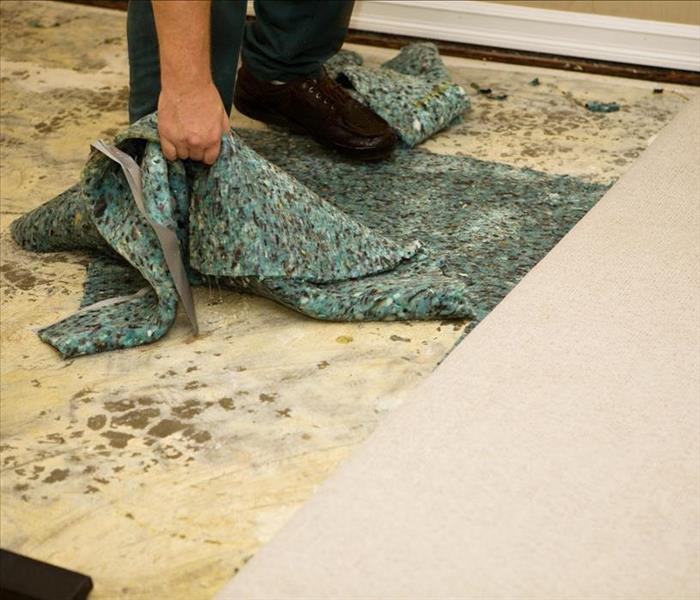 Water damage carpets may produce malodors. SERVPRO techs are ready 24/7 365 days a year for any size water damage restoration service you need.
SERVPRO Has Dedicated Water Mitigation Technicians that Can Restore your Nutley Home
Water that leaks or spills into a property cause damage to everything that is exposed. Even small quantities of water can support microbial bacteria, cause unpleasant odors or deteriorate carpet fibers and flooring. Sometimes household items like mops or dry sheeting can be used to soak up water spills. When there is too much water to remove with household items, it is vital to bring in a qualified restoration service to prevent your home or contents from sustaining additional damage. We offer many benefits, including:
Water removal services
Water damage repairs
Water clean up
Carpets are often a central focus for water mitigation in your Nutley home. Carpets and other textiles are made up of dense fibers which can easily and quickly absorb moisture. A carpet that appears dry can often contain to retain moisture and continue to cause damage to the subfloor. SERVPRO technicians are adept at recognizing potential damage-causing parts of the home and using advanced mitigation strategies to prevent it from happening.
Water can cause delamination of carpet fibers from the backing of the carpet. Full delamination usually requires carpet replacement but can be mitigated by detaching and thoroughly drying the carpet.
Floating carpets is a process where air movement is applied between the carpet laminate and the subfloor. It is often vital to mitigating long-term damages in the home.
Pre-conditioning, drying, and buffering the carpet fibers using rotary machinery can go some way to restoring a carpet to its preloss condition after water exposure.
For more advice on protecting your home from water, contact SERVPRO of Nutley / Bloomfield for water cleanup at (973) 662-0062.